I am finally going to sell my brother's bike. She has never been mine and I was always a little uncomfortable riding her-she was still his after all. She is a 1982 GL500 in pretty darn good shape for being 30 years old. She has never given me any problems starting. She could use a full tune up with all the fluids changed, and most likely will need a new front tire for an inspection sticker. They usually do brakes at the same time, so keep that in mind. The horn does not work, I used a squeeky bike horn when I rode it last. She just developed a small coolant leak right where the pipe goes into the engine. I really think it is just the gasket which is behind two bolts but have not investigated this. I do not have the time to fix the small things and do the tuneup. This bike is not perfect, however, given the years she has on her she is in really good shape. One could do a restore or make her a chopper quite easily. I just don't have the time to ride anymore so she has to go. I hope she goes to someone who has the time to give her the attention this rare classic bike deserves. They say these engines will go and go then go some more so at less than 19,0000 miles on her, she has plenty of life left. While washing her, I snapped off one of the tabs on the side plastic cover behind the battery; the cover stays on but is loose.
Her blue book is: $1165 http://www.kbb.com/motorcycle/retail/1982/honda/gl500-silverwing/69202/
Her trade in value is: $720 http://www.kbb.com/motorcycle/trade-in/1982/honda/gl500-silverwing/69202/
I am asking $850 on her as is. Serious inquiries only, no tire kickers.
Being 31 years old, there are no guarantees. She would be a great candidate for a ground up restoration or put a few dollars into her and have a great old daily driver.
We have a clean title in hand.
I will be putting up my 1982 CB750 Nighthawk for sale soon.

Her photo shoot. Click for larger image.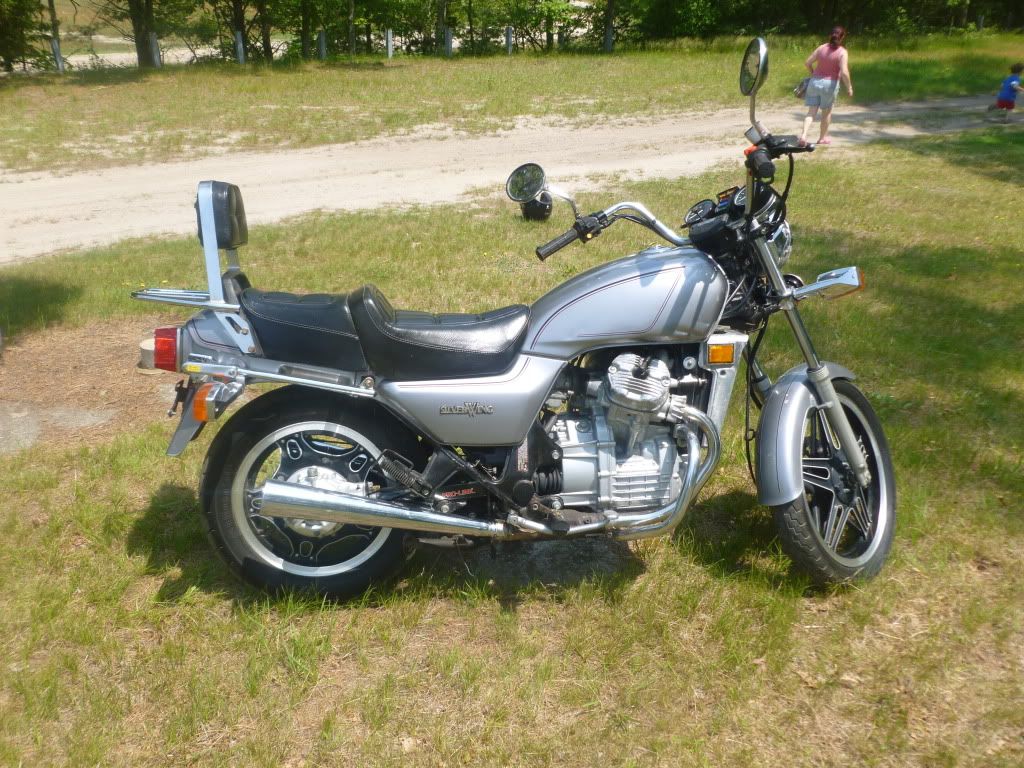 Here is a video with sound of her running: